---
Looking back on an inspirational, sunny and great weekend 21./22. September with Rebecca Gilbert ST Instructor 😄☀️
My main focus this time was building a stronger mental connection with Misfit so that he can express and unfold his full potential without me being in his way nagging and micromanaging. We might manage all the exercises in the lower Grades but the higher and more advanced we get we need the horse's mind a 100% only then the magic will happen and things will look light.
The saying 'once you have the mind the body will follow' is so true and Misfit proofed it to me as he is more a 'whoa' than a 'go' horse. We worked on relaxation when it was time to digest and on 'spot on' reaction when it was time to move his feet taking responsibility 😊
It sounds easy but theory and practice are two different worlds 🌎. I was so busy over a long time that I lost the relaxation in Misfit's mind. So we went back down in the ST Pyramid and had a deeper look into '101 Horse Training' as this is the foundation to all.
Strong focus, being present with an inner picture and inner feeling, having a clear and congruent body language is key to success as the horses live in the now and are masters in reading us.
Lucano was just brilliant, being in his first clinic surrounded by spectators and strange horses. Physically he fine and he showed some lovely LFS arising organical so we also played a bit more on the mental connection as this was my theme for the weekend. I helped him through to stay focused on me while asking transition on the longe. He tends to explode from time to time going from walk to trot. The new surrounding (chairs, people in the arena, horses in the paddocks) gave him an extra invitation especially being drawn towards lovely Jonna. Once I had his focus he was light on the longe line thinking to the inside and then there is no need to overuse our tools.
I emptied my cup the night before and I got exactly what I needed (not what I wanted, LOL) to progress with my horses and to have a fruitful 🌱and lasting 💕relationship no matter how difficult 💪 the exercises might get.
Thank you so much, Rebecca, for all your knowledge and patience 😘and I hope to see you Roz next year as well.
Always fun to get together...big laughs till late at night is guaranteed with those girls, LOL.
---
Back from a wonderful fruitful 🌱, sunny ☀️and for sure funny 😊 ST workshop on 02/03.06. with a lot of laughter at Eva place in Zádveřice 🇨🇿
I like very much the authentic atmosphere at STÁJ MEVRIN z.s. as it feels like one big family. No matter if you are a beginner and hardly know anything about ST or an advanced student working with 🐎 horses in a high mental state …everyone is in the same boat helping and supporting each other, which is such a super attitude and brings me to our first topic:
=> Expedition #8 in the ST Pyramid "Freezing the ice below sea level" 🏔️Nothing to add because this weekend's group had it. No quitting mentality when things get hard, no ' I know it all attitude' instead everyone was open-minded and ready to learn.
=>Expedition #9 "It's Always ME" 🙋, during the lessons we discovered 🔍that if things are not working, which is mainly our horse not doing the exercise the way we want…that it is always the rider. Not being clear with inner picture/inner feeling and body language or not exactly having a plan how aids or concepts are used properly. So the horses are looking at us with a big question mark on their foreheads. So instead of giving up we keep trying over and over with different approaches (lab cycle, think-act-check-change) until we are happy with the result.
=> Expedition #1 "Look-Alikes" are maybe nice at the first glance but when knowing the golden thread of ST (lateral bending, forward down tendency, stepping under) it is not possible to just go on and act as 'if' things are ok. NO, we have to look deeper and find the missing essence first before we can perform and play the music. So back to the basic to put another layer on our foundation to widen, broaden and deepen it. We had some lovely discoveries with the farmer's concept and knowing that ' It is always me' brings growth 🌱 and happiness after all 😊
=> Expedition #4 🍅 "Tomato shape" was another topic in the lessons. There were some nice BSSTR (balance, suppleness, shape, tempo and rhythm) but the round shape was missing, which brings the horses nose towards the vertical once the inside hind leg is properly connecting to the center of mass. Also here, we had some lovely shapes with a proper 'two-way' street quality arising in all horses.
=> Expedition #10 "Cyclical Awareness" 🌀 was visible and feelable with all participants, which made this workshop a super place to learn and grow in all aspects.
The ST Pyramid was the theme in our theory session and popped up and came to life during the practical lessons. You can find all expeditions with more details under https://www.straightnesstraining.com/tips/st-pyramid/
You guys are just great. A big thank you to each one of you, participants and spectators for taking so well care of me, especially to Eva and Hanča for arranging driving me forth and back to the airport, which is a 3h one way drive and to Jitka Novosadová for the delicious food 🍉 🍗 🍰 as we can never stop eating, LOL.
I look forward to seeing you all next year again and till then I am wishing you a great time with your lovely unicorns 🦄
ST Mastery students Eva Žaludková with Ari, Hanča Chrastecká with Masha, Ivana Kovaříková with Spotty and her daughter Eliška Kovaříková(our youngest 15 years old) with Phenomena and Kateřina Špačková with Čedar and Jitka Pavelková with Fernando 
:-)
---
Last weekend we had a wonderful Straightness Training Workshop in Austria (04./05.05.) with 6 horse/rider combos who dived into Groundwork, Longeing, Work in hand and Riding 😊
In the theory 👂 we discussed the different types of half halts and when and how to perform them. It was very interesting to explore and to find out that the 'map is never the territory'.
One of the most important ones is the 'Steinbrecht check', which is an observing  🔎 half halt and consists of four steps:
1. The rider is closing his hand like squeezing a sponge out (asking)
2. The horse yields
3. The rider is opening his hand (giving)
4. The horse is searching towards the hand
It sounds and reads very easy but when we are in the arena it can be quite challenging already in the standstill exercises to get a clear 'ask-yield-give-search' process going.
Not only we have to concentrate on what we are doing with our hands (pressure & release technique) we also need to master our own emotions and feeling staying calm and having a clear plan what we want to do. Besides this, we are dealing with outside influences like a busy arena with more horses 🐎🐎🐎 and different noises going on outside. Then it is not only about the four steps, it's about dealing with the whole situation and to get the training session as effective as possible.
So we discovered: 'Always have a plan but be flexible in your approach' 😊
Later in the different pillars we dived into the combined half halts once the golden thread of LFS (lateral bending, forward down tendency and stepping under of the inside hind leg) was lost and our 'Steinbrecht check' did not come through enough.
With 'versal' or 'traversal' half halts, which consist of seat, leg, hand and whip aids we are able to produce and bring back the balance, suppleness, shape the so called self-carriage ⚖️ in the horse so that our horses can become light in our hands not falling in or out of the movement.
The combined half halts are even more challenging than the observing half halts because of the combination of seat, leg, hand and whip aids. Sometimes in riding, the use of only a clear seat and hand aid can be enough and something we need all of them at the same time yet not forgetting to breath allowing our body to be relaxed and inviting the horse into our seat.
We had some lovely moments of round 🍅, elegant posture arising in every Pillar 🏛️ and the smiles on the riders faces where obvious 😊
A big THANK YOU to all the observing students and the participants with their horses for attending this weekend bearing in the cold ❄️ arena; Rubi with Orli, Julia with Excellente and Darek, Alina with Vera, Sabine with Zimti, Sophie with Geronimo and Darek, Renee with Geronimo.
It was a pleasure to support you and your lovely horses. Have fun at home in your lab to polish your knowledge and skills and I look forward to seeing you next year and some of you in a upcoming Touchstones.
Happy Straightness Training 😘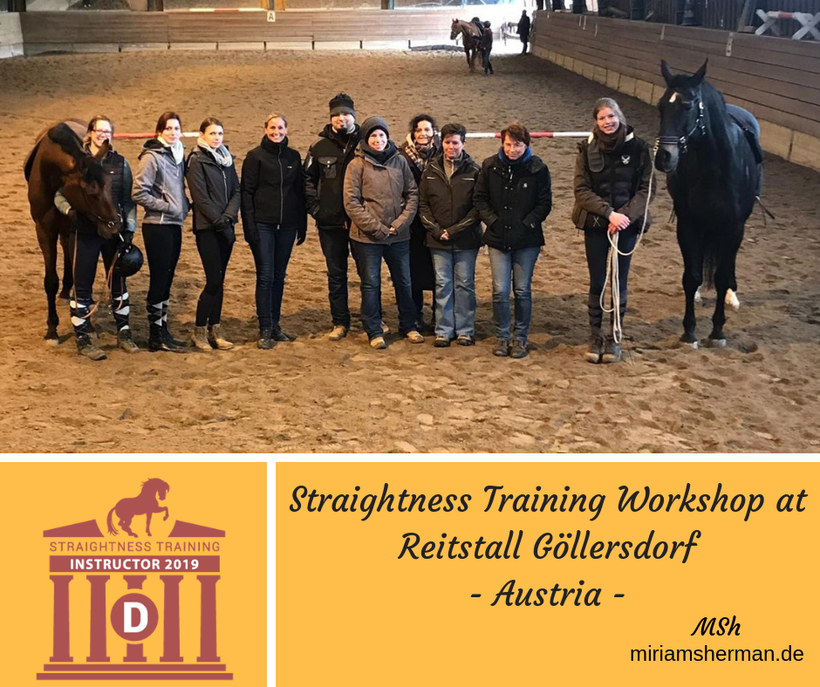 ---
Last weekend we had another great ST Workshop (30./31.03.) with private lessons in Bella Italia, Tuscany organized by ST Mastery Entry student Silvia Taverni.
This time we focused on how to get our horses from a cucumber 🥒 (natural balance) to a tomato 🍅(horizontal balance)  and how to get them back on track if they lost balance, suppleness and shape. In our theory we discussed the different varieties of half halts. In order to give a half halt we must be able to observe 👀 our horse first and see when it is out of balance. The main goal of a half halt is actually to keep the center of mass in its place so the horse can step under properly and support himself in the basic exercises. Later on, in training and when the horse is more advanced, we focus on the carrying ability of the hind legs, which will build up muscles 💪.
We dived and explored the 'Steinbrecht check', which is an observing half halt. This one only checks if everything is fine like balance, suppleness, shape, tempo and rhythm so we can carry on.
In the standstill exercises we already checked the four stages of: 1. The rider closes his hand (ask), 2.Tthe horse yields, 3.The rider opens his hand (give) and 4. The horse searches into forward down. This 'ask-yield-give-serach' process is so crucial in every exercise, gait or Pillar we work in.
We had some lovely work in hand and riding lessons, where the connecting half halt had its time. Not only squeezing the sponge and a twinkly whip in behind bring the horses into the desired tomato 🍅shape also our emotions, feeling, body language, when and how to give an aid play a big role.
In theory it sounds simple but in practice it is a different story. So the map 🗺️ is never the territory ⛰️.
We also had a fantastic Liberty session, where ST Mastery student Timna showed the Touchstone sequence with her lovely mare. Inner Canidà picture and inner feeling, body language and if necessary a whip aid are also a combination of different half halts to help the horse into the LFS and in the higher Grades into the requested ⛰️shape.
A big thank you to Isabella Galgano for her effortless translation between English and Italian and Barbara Taverni for her delicious food 🍷🍕. Always taking care so well of the Workshop participants.
Thanks to all riders and spectators, who made this workshop a full success. ST Mastery Entry student Silvia Tave with Stella, ST Mastery Timna Panfietti Monaco with Canidà. Then we had Elia Taverni with Ribot, Eleonora Niccolini with Pensame, Loretta Manneschi with Camomilla and Aldo with Nina and Manuela Maccari with Ice in a private lesson.

You all did a very good job in guiding your horses into tomatos 🍅.
Happy ST to you all e ci vediamo 😊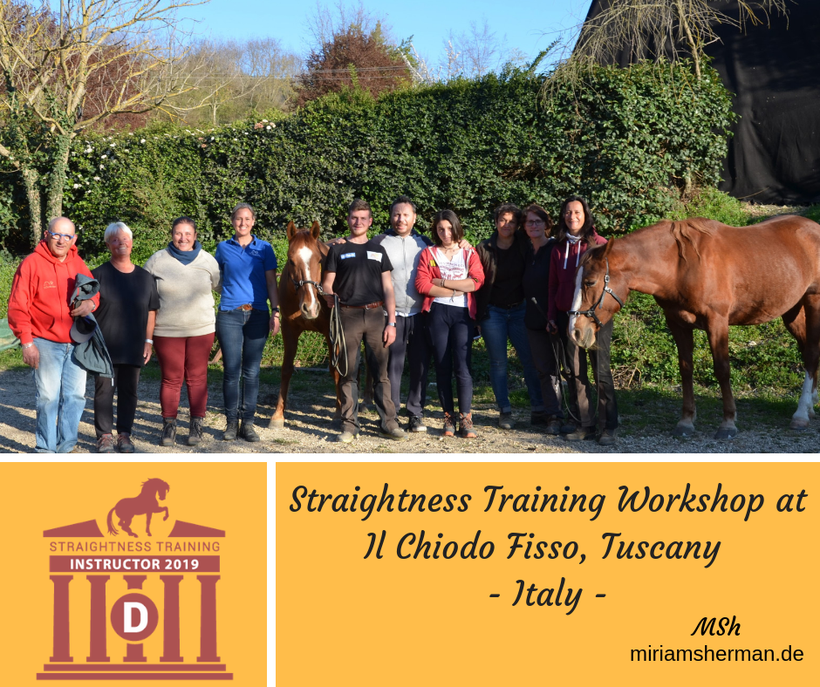 ---
Auch dieses Jahr kann ich mit Stolz mein neues Logo als lizensierter ST Instructor präsentieren als auch weiterhin das Logo eines offiziellen Straightness Training Evaluators.
I am very proud to present my new Logo also for 2019 as a licensed ST Instructor as well as being an official Straightness Training Evaluator.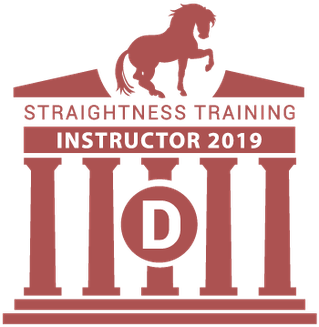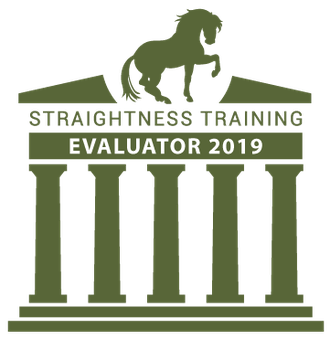 ---